What else is there to say? it's international wallpaper week! which is "Celebrating all that is great and good in the world of wallpaper". We at Paint & Paper thought it would be a good idea to share our favourite wallpapers which celebrates what is good about wallpapers.  What makes wallpapers so great? why not just buy a cheaper brand? you may ask yourself, and yes you are right to question that, it's mainly down to the brand you are buying, generally they are better made and are made on a made to order basis, they are also designed by a lot of famous designers, which adds that premium feels to the products.
It has been a long time since walls have been in such close focus as they are now. We are filling our homes with colour. Walls are being papered and painted as never before, and even the furniture is colourful.
We are becoming more adventurous and more aware of our choices, and the material is becoming more important when we decorate our homes. Wallpaper is taking centre stage without taking over.
Three massive colour trends this autumn are dark velvet green, midnight blue and deep red. We see them in all the major stores around the country.
First of all, if you like any of the wallpapers shown here, you can order them through our website, live chat or instore! you can also order samples of each wallpaper too, just in case you want to try or see the wallpaper in person. all samples are available in an A4 sample. Please, check our returns policy! We can't accept wallpapers back once ordered.
Anyway, enough of the shameless self plug..lets get into the wallpapers.
1.Osborne & little – Derwent (67.50 A Roll)
This is a wonderful wallpaper by Osborne & little, it features koi carp on a repeating pattern across the wallpaper, which is available in 5 designs. It features the koi carp swirling in a pool of water, a very fun and lovely design which can look good in bedrooms or in your living rooms. As you can see by the photo below, this room shot was featured in a kitchen.  This was named after the forest and River Derwent in west Cumbria, featuring a silver fishing on a blue background, if you click our link above you can see the rest of the wallpapers in this collection.
this wallpaper would be complemented nicely with Paint Libary's flat emulsion, maybe with a teal or blue gum colour, or if you wanted a variation, possibly a marble/lead colour.
2. Osborne & Little Rain Forest (£180 A Roll)
I love this wallpaper, it has such a nice design to it, honestly is one of my favourite wallpapers (hence being on this list!) This is from the enchanted garden's collection which is featuring nice entanglement of plants birds and colours to build up a sense of a rainforest, in another sense its A fantastical imagining of a climbing branch of broad veined leaves and colourful blooms populated with exotic birds, its featured in several colourways which can add compliment in a manner of ways. If you were looking for an exotic design in your interior, this would be perfect. Little Greene paint in a matt emulsion in an apple or olive oil might compliment this nicely. Although its up to you what you think may benefit this wallpaper.
3. Cole & Son Miami (£350 A roll)
"Cole & Son Icons Miami, Paying homage to the epicentre of tropical, retro style, the exuberant Miami design featuring layers of terraced colonnades and lush tropical vegetation"
This wallpaper is a classic, personally. It's been designed so perfectly and captures that retro(ness) from the 80s/90s. it's a fantastic wallpaper which would look great in any interior rooms. it imagines itself being modern while at the same time remaining to be a classic design. Personally, it reminds me of the early 90s game level designs, almost paying homage to them in some ways.  Their Icons collection is their new collection which features some of the best selling and beautifully designed wallpapers by Cole & Son. This collection is featured in two beautiful designs. ones a retro classic design, while the other is a black white design. Which Gives a nice modern but again classic feel to it. Unfortunately as nice as this wallpaper is, it has got a premium price tag of £350! Although it's always best to check our discount page to get discount codes to save money on your order.
4.) Rebel Walls Birch Metal (£33/m2)
Rebel walls honestly must be my favourite wallpaper company (no I'm not getting paid to say that!), they have so many modern sleek and creative designs which I really appreciate. Personally, I find a lot of wallpaper companies to aim at an older audience, which I can respect, but Rebel Walls seem to go for a very fashionable modern design which fits into a perfect student/young adult modernish room. It could be that I am just young so I appreciate them more. We also have a Rebel walls Mural in our shop that you may have noticed when you walk in.. Anyway rebel walls have a nice wallpaper called Birch Metal, which has a nice modern sleek design put into it. Combining the versatile look of birches with the scratchy feel of industrial metal – this mural will give your home an earthy atmosphere and yet a bit of a rough touch. Great for those who like to keep it natural but not too neat. would look great in a modern black and white studio or a bedroom. you could use this wallpaper as a wall mural. while using Farrow & Ball's off-black or black blue on the walls. Or if you prefer to go all white (for that spacious feel) go for a cullana or an all white in an emulsion.
5.) Jane Churchill Cityscape (£85 Per Roll)
This is actually a very nice creative wallpaper. I'm quite fond of Jane Churchill's designs, they make some very "cutesy" and creative wallpapers, which are loved by lots of our customers.  I choose cityscape to go into this collection because it's new and has a nice creative sponge printed effect, it would look great in a children's room or in a study of some form.  Jane Churchill Cityscape collection, featuring A stylised cityscape design with buildings in different shapes creating an all over pattern on a textured vinyl wallcovering. Jane Churchill has designed some great wallpapers, such as the alphabet, Winnie the Pooh and more. This appealing print is another key signature of this collection. The effect of the architectural detail is slightly softened and abstracted with texture and given a geometric effect with blocks of subtle colour. The look is created with layers of subtle metallic and matte inks and further enhanced by an emboss with a horizontal ridge. This innovative design is also available as a printed linen fabric. Vinyl on paper.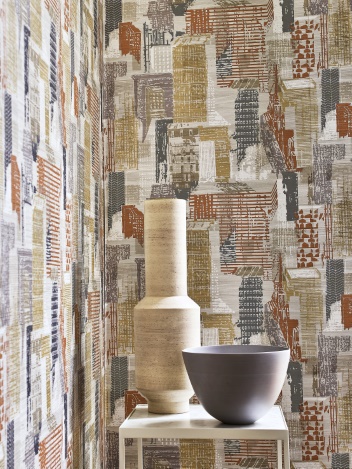 Finally, to summarise, I believe these are perfect examples of well-designed wallpapers and why wallpapers are still so great.